Envirosight Releases New Traffic Safety Poster for Sewer Workers
Free poster illustrates the details that go into proper traffic work zone setup.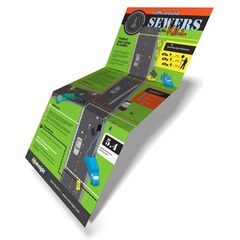 A new, free poster from Envirosight illustrates how sewer inspection crews can maintain compliant work zones in a variety to traffic patterns and scenarios, start to finish. Following guidance from the Federal Highway Administration on appropriate work zone setup, this poster provides an easy-to-follow visual reference for reducing traffic safety risks to both workers and drivers.
"Advance notice of crew presence and changes in traffic flow helps make drivers extra aware of their surroundings," explains Katie Breeden, Envirosight's Marketing Assistant. "There are requirements that need to be followed when setting up work zones, but those vary by street size and traffic volume. We made this poster as a reference for sewer inspection crews working out on the roads to encourage traffic safety."
About Envirosight LLC
Randolph, New Jersey-based Envirosight, LLC provides sewer cameras and other pipeline inspection solutions to municipalities, contractors, departments of transportation, and civil/environmental engineers. Envirosight is a full-service manufacturer of robotic sewer inspection crawlers, zoom cameras, push cameras, inspection reporting and asset management software, and inspection vehicles. Envirosight is committed to ongoing innovation, delivering products that enhance user productivity and inspection detail. Envirosight serves customers through a trained network of regional sales partners who deliver localized support and expertise with rapid turnaround. All Envirosight technical employees hold NASSCO PACP certification. Visit Envirosight online at http://www.envirosight.com